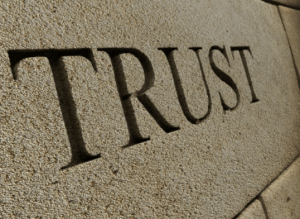 Trust. It impacts our day from start to finish and influences thousands of decisions and interactions we make in between, from the products we buy to the news that we read.
The T word is everywhere, used about people, places, relationships and of course, businesses. It can be built over time and demolished in a heartbeat, often for good.
Trust is subjective – an emotion, a sense or experience. It is easy to feel, but difficult to influence. In a world of unprecedented choice and accessibility of information, trust is a key driving factor that influences customers to commit to a brand or service and draws them back for more.
Trust, therefore, is an asset which companies must understand and manage if they are to succeed in complex global operating environments.
Recent research at Harvard Business School has revealed that when a brand has credibility, reliability and intimacy, then it can expect an increase in satisfied customers and improved retention. Hardly groundbreaking news, but it is good common sense.
Loyal brand stakeholders – who come back time and again – now have more channels of communication than ever before to tell others about their experience and choices, directly translating into brand revenue and profit.
And whilst trust between brands and their customers has long been a priority for the world's most forward-thinking companies, it has never been more important than it is today. In particular, for the financial services sector.
As a major influencing factor of brand and product choice, 'trust' drained away from the financial services sector on a global scale during the financial crash of 2008. Financial institutions which for generations were viewed as secure pillars of the economy and local communities have seen levels of trust amongst customers plummet to unprecedented lows. Research in 2014 from PWC revealed that fewer than one in three UK consumers now trust their bank, with even lower ratings for other types of financial services such as insurance providers and advisors.
Long established companies across the financial services – for years immune to forces of competition and innovation – are now being forced to adapt to a new, post-Lehman landscape. This is a world where, with information disclosure driven by ever-lower barriers to access, consumers now expect full transparency and accountability from the brands and services they use daily.
Financial brands are fast understanding that people don't just buy products anymore, they buy into the companies that make those products, the values they represent and what they stand for. In the era of Apple and Facebook, a brand's social purpose and status has become of huge importance to the consumer.
The consumer increasingly yields the power, and through social networks, they will either proudly advocate and defend their brand choices or quickly share a negative experience.
Whilst historically behind in embracing social media, we are now seeing companies across the financial services catching up to those in other major industries. Faced with increased market competition, traditional financial institutions are now seeking to rebuild trust by using social media to increase transparency and improve customer engagement through storytelling.
The leading edge financial brands – in terms of marketing and product innovation – are the ones that understand the peer networks their consumers operate in. The smart players are the ones that are moving from big, functional claims about product quality and instead are inviting customers to make personal, intuitive decisions.
Put simply, social media – as a tool to demonstrate transparency, commercial ethics and engagement – can allow financial brands to attract new customers through increased trust.
The most effective brands in the sector will combine social strategies with pro-active engagement with the written press, through fast and responsive communication and accountable leadership.
By communicating frequently and honestly with stakeholders through compelling storytelling and content, financial brands can form mutually beneficial relationships with consumers that will result in their loyalty and advocacy.
And in a sector that promotes many of the same products and services, strong brand identity and differentiation is paramount. This only increases the need for pro-active engagement through digital channels.
Facebook, for example, is now being used widely across the financial sector for community outreach, for communicating the corporate culture of a financial institution and to market promotions and deals.
Twitter is now used as a social news feed by every major financial institution, either to respond directly to customer issues or to demonstrate thought leadership and brand personality.
Acting as a hub for video marketing, YouTube is being smartly used for content generation, from how-to tutorials, leadership interviews and promotional commercials. Likewise, image-based networks such as Pinterest and Instagram are also now being used effectively by many financial brands to attract specific demographics with eye-catching visual content.
So the challenge has been laid down to the financial services sector to re-emerge and adapt to a more transparent marketplace where apathetic consumers are harder to win. The brands that listen, lead and engage through social channels that will come out on top.
That is the value of trust.