By Michael Lach
My internship at The PHA Group started in October 2016, after recently completing my degree in International Relations and Politics from the University of East Anglia. I had always been interested in Politics as well as PR, and when I stumbled upon an online invite one day asking me to attend a 'PHA Open Day for aspiring PR professionals' I leapt at the opportunity.
The day encompassed of myself and a few dozen others coming to PHA to learn about all the teams and the work that they do. After hearing from Emily, who did an introduction to the Public Affairs team, I knew that this was definitely something I would be interested in pursuing.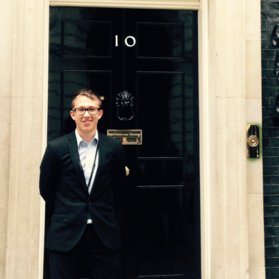 Fast forward to February and I've now been at PHA in the Public Affairs team for a little over 4 months. During this time I've worked on some truly big issues, from helping to safeguard the future of British Film, to helping millions of British overseas citizens. Plus, one of the best things about doing work experience with the PHA Public Affairs team is that unlike in other intern roles where basically your biggest responsibility is in charge of making tea or photocopying, at PHA you are truly part of the team and have responsibilities that matter.
In my first week, I was asked to help set up meetings between our clients and MP's. It felt great that the company trusted me enough to give me such an important responsibility, which ultimately was crucial to our clients' interests. My responsibilities have also included preparing briefs and reports for the team and our clients, as well as client events and attending high-profile meetings in Parliament with our clients and some of the UK's top politicians.
Another thing I have enjoyed is that no day is ever the same! When you come into work in the morning, you could be working on a new client that's just signed up, meeting with a client, or attending events!
We had a great time (and came 3rd!) at the @APPC_UK pub quiz last night

As well as being able to work on cutting edge issues, you'll also get to work in a great team who will be with you every step of the way and do all they can to bring you on board. Also, as everyone in the Public Affairs team has worked in frontline politics, there is no-one better to talk to if you want to discuss an issue or get an understanding of how politics really works.

As well as my time with the Public Affairs team, I have also had the opportunity to meet colleagues who work on some of the other great teams at PHA, as well as working with the tech team alongside my time in Public Affairs. I have also enjoyed hearing from some of the ex-journalists at PHA who really understand the industry and have some great stories to tell.