Written by
Hayley Coleby
• Published 2nd March 2018 • 2 minute read
This #InternationalWomensDay we're asking individuals from across the agency which women they find inspiring and empowering. The #PressForProgress motto spans every industry and facet of life, and we're highlighting women from all across board who have pressed for progress in their own way:
What people consider inspirational and empowering will of course vary hugely, but for me it's a powerful woman who lets nothing stand in her way, will give her male counterparts a run for their money, and do it all in one of the most male-dominated industries in the world.
Monica Galetti works in an industry where a common assumption is that women aren't tough enough, committed enough or have the "fire in the belly" (to quote Tom Kerridge) to really succeed in the kitchen. Yes, women occupy positions as cooks all over the country, whether it be in schools, corporate and catering or even the free labour of women cooking for the family every evening. But the world of Michelin starred restaurants is a little different, just 8% of starred NYC restaurants are run by women. Of the 172 UK restaurants with a Michelin star, only ten have a female head chef, and while there are 250,000 professional chefs in the UK, only about a fifth of them are female.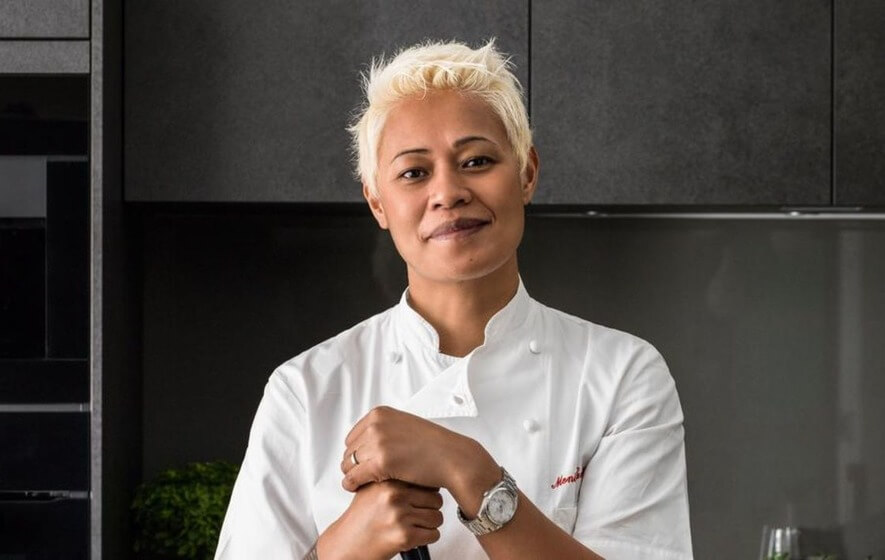 Galetti is a brilliant chef, and regularly demonstrates her skills and knowledge on Masterchef: The Professionals, her no-nonsense approach is admirable, and her story is one of dedication, sacrifice and passion. Galetti is the highest-ranking female chef ever to work at Le Gavroche, but she is by no means the most decorated female chef in the UK. That prize goes to Clare Smyth, a legend in her own right, the only woman in the UK to hold 3 Michelin stars.
But Galetti is a household name, and her visibility (I hope) inspires and empowers other women to consider a career in the kitchen. She offers a simplicity to the whole situation, put your career first, when you can, and take no prisoners. Being a chef is a gruelling job, whether you're male or female, the hours will get to you. If you're not in a kitchen at work, you may well be in a kitchen at home, testing and trying new recipes. For Monica, she put her career first for a number of years, and when the time came she put that on the back burner and made time for a family. Now, years later, she has a 12-year-old girl, Anais, and her own restaurant, Mere, which she runs with her Sommelier husband.
Galetti has built a family and a career in a sometimes hostile and male-dominate climate. She's pressed for progress by just being that good, demanding her position by outclassing the rest, and simply proving that women can get the job done. Like she says, "once you put a white jacket on you should all be the same". With women like her, Clare Smyth, Angela Hartnett and Hélène Darroze paving the way, we've seen an influx of brilliant new female chefs. Take Erchen Chang, one of the minds behind outstanding Taiwanese restaurant, XU, and the Londoner's beloved Bao. I'm all for this long overdue #GirlPower, for the sake of equality, diversity and better eating!