We were thrilled to host our first PR Open Day on Thursday 20th October when we welcomed a group of 26 enthusiastic and aspiring PR professionals to our London offices to gain a unique insight into Public Relations.
The PR industry is exciting, fast-paced and always on the lookout for talent. PR has something for everyone – whether you are a media expert with an interest in creative content, an English student with a flair for writing, or a sports fan keen to know about the latest fitness app. Many graduates and professionals are considering a career in PR because of its variety.
However getting into the PR industry can be a challenge without specific experience or a specialist degree.
We decided to launch our PR Open Day for students, graduates and aspiring PR professionals to reduce this challenge and provide an opportunity for the attendees to learn first-hand about a career in PR at our buzzing office with the help of our friendly team.
Our aim was to explain what a job in PR involves and help demystify some of the terminology and techniques that the industry uses.
The day involved interactive sessions, detailed explanations of our teams and a Q&A with a group of senior and junior members of the PHA team.
Our Chairman Phil Hall, and our Legal and Financial Director Marina Hall, welcomed the attendees with an introduction to our agency and our commitment to providing opportunities to those interested in finding out more about life at PHA.
Our HR team were on hand to discuss current roles that we were recruiting for and to answer questions on training, staff benefits and working culture.
Andy, an Account Director with our Media Management team, and Naomi, a Junior Account Manager with our Consumer and Lifestyle team, gave a breakdown of PR terms and techniques and an exclusive insight into press release writing and how to manage a PR crisis in the changing media landscape. Other sessions included a guide to creating successful PR events and how to structure a creative PR campaign.
PHA are proud to offer several work experience placements with each of our specialist teams and following the Open Day a number of attendees have gone on to complete placements with our Political Strategy, Sales and Marketing and Sport and Leisure teams.
We invest greatly into the development of our people and this starts from the word go. As well as our work experience scheme, we offer paid internships for up to three months from which we regularly recruit permanent members of the team, so watch this space!
The Open Day was a great success and we plan to build upon this and make our next one even better.
Thank you to everyone who was involved in the organisation of the Open Day and to the senior team for their support with this highly rewarding initiative.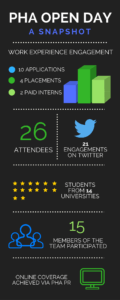 Chairman Phil Hall had the following to say about the day:
"Part of the PHA ethos is to continually develop our team and we strongly believe in offering opportunities to anyone considering PR as a career. Everyone at PHA has a real love and genuine passion for the work they do, and we are thrilled to be able to share our expertise with the next generation of PR professionals."
And here's what one of our attendees fed back:
Take a look at our Twitter @PHA_people to see what others had to say about the day.
If you would like to attend an Open Day in 2017 simply send a copy of your CV and a brief Cover Letter detailing what interests you about a career in PR to lucyw@thephagroup.com