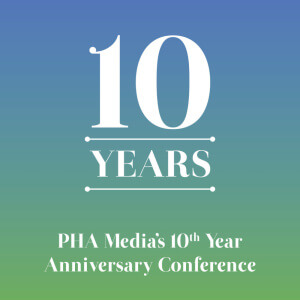 The title of The PHA Group's tenth anniversary conference is: Going the Extra Mile. What does that mean?
Going the extra mile for a client means doing everything they expect and then doing that bit extra they didn't expect. From a business' perspective, it means being relentless, continually setting new goals and never being satisfied with the level you've reached.
When I started my business, SJD Accountancy, in my early twenties I never expected it to become the UK's biggest independent accountancy firm, worth £100m. But I'm a very competitive person – my motivation was beating other people, making sure no one was doing better than us. We ended up four times bigger than anyone else in the marketplace.
There's no great secret to it. Some people are always looking for the next big thing – the new wonder product, a new way of working or a new company logo – but the truth is that success in business comes from doing the same thing again and again, month after month, year after year, to a very high standard.
Set yourself long-term goals, but then keep them at the back of your mind because if you focus on them too much they can be overwhelming. If your long-term goal is to double the size of the business that's fine, but the first thing you have to do is hit next month's figures. Don't let the long-term distract you from the short-term. Stand back from time to time to review your progress and look at the big picture, but don't let it stop you getting the day-to-day things right: if your clients are happy because you're delivering excellence then they'll stay.
Going the extra mile in business is no different from doing it in the rest of your life. In a relationship that means not just going through the motions, it means buying that surprise gift or telling your partner "I love you" when they're not expecting it. Or if you're trying to keep fit and you go the gym or go running three times a week for half an hour why not go five times a week instead?
Going the extra mile as a business also means treating your staff in a way that exceeds their expectations – not just with the obvious stuff, the way you reward them and develop their careers, but in the little gestures, like sending a handwritten note to them when they've had a baby, telling them what a great job they do. That's what generates goodwill.
Now that I've sold my business I have the opportunity to invest in other companies. When deciding whether to invest, the first thing I look at is the people. You are not buying a company, you are buying a group of people with a common goal.
However good a company is, if it's full of people you don't like it's not going to work. You can have a mediocre product or business idea and, as long as you have good people, you can make it work because you can always improve the product or the idea. But if you have a great product and mediocre staff it's never going to work.
It's like pitching to a client. If they like you they will buy from you. If you're a likeable person it doesn't automatically mean you'll win every time, but if you're not likeable you certainly won't win. When I'm deciding whether to invest in a business the people there either need to be likeable or interesting – people whose company you enjoy or who intrigue you.
I bought into PHA because I liked the bosses and I liked the people who worked for them. Whenever I came into the office as a client I met people who were bright and energetic. I liked the culture. If a company has the right culture and the right people it will always succeed.