Last Wednesday started like any other for me at The PHA Group; the morning paper reviews, the hustle and bustle of colleagues arriving and an averagely assembled bowl of cereal. There was very little indication of what I was in store for…
PHA is filled with people either married, engaged or in long-term, committed relationships, I however, am not one of those. And thus, when word got out that a Sun journalist was after 'attractive singles to take part in fun dates' for a feature, my hat was thrown into the ring. Not for being particularly aesthetically pleasing, might I add, but simply for a lack of alternatives and a bit of fun.
After some gentle persuasion, I agreed and suddenly my Wednesday night no longer featured a microwave meal and The Apprentice but a date with a woman I had never met before and a Sun photographer. Bemusement? Nerves? Excitement? A combination of the three was probably accurate.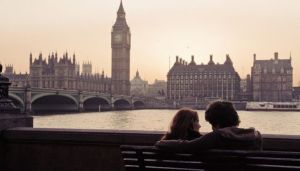 As always with these things, nothing is ever completely straightforward. The 'funny quirk' of the date was that I would have to kiss the lady in question prior to exchanging pleasantries and have it snapped on camera. Not an alien concept to me, I must admit, but without alcohol as a lubricant, a far more unnerving task.
I arrived at the appropriately named Match Bar, slightly past the arranged time of 7pm, in a juvenile attempt to maintain fashionable, but soon realised I had been trumped as my date proceeded to make me wait until 7.15pm. Unflustered, we got down to business (not a euphemism on this occasion I'm afraid) and adhered to the instructions from the photographer.
And so the moment came for the long-awaited kiss. Laughs were exchanged and disappointingly for those wanting any gossip, I handled the situation like the consummate professional I am. With that photo and others of the two of us in 'natural date poses' taken care of, it was time to enjoy the flow of alcohol and each other's company.
Drinks were consumed, anecdotes were swapped regarding our careers and the evening was proving to be rather a pleasant one. The suggestion of dinner round the corner was made and being someone to never skimp on food, while naturally also wanting to extend the evening, I accepted.
Three courses and a few bottles of beer later, the evening wound down and being the gentleman I am, ended with a peck on the cheek and insisting my date took the first cab ride home.
It was certainly an experience which captured the imaginations of my peers and one that got tongues wagging in the office. Questions reigned in to me the morning after and, harbouring the cricketer in me, I returned most with a straight bat. However, 'Yes' is the answer to the question on most lips; my date has asked me out again, and a second date appears very much on the cards…