In order to launch Young Enterprise's new and exciting Fiver Challenge initiative, we took to the ArcelorMittal Orbit in Queen Elizabeth Olympic Park with Britain's very own Olympic hero Beth Tweddle and a group of very excitable year six students.
The new Fiver Challenge, supported by Virgin Money and the Department for Business Innovation and Skills, is all about introducing enterprise into primary school education and encouraging children to get creative and work hard towards achieving their goals.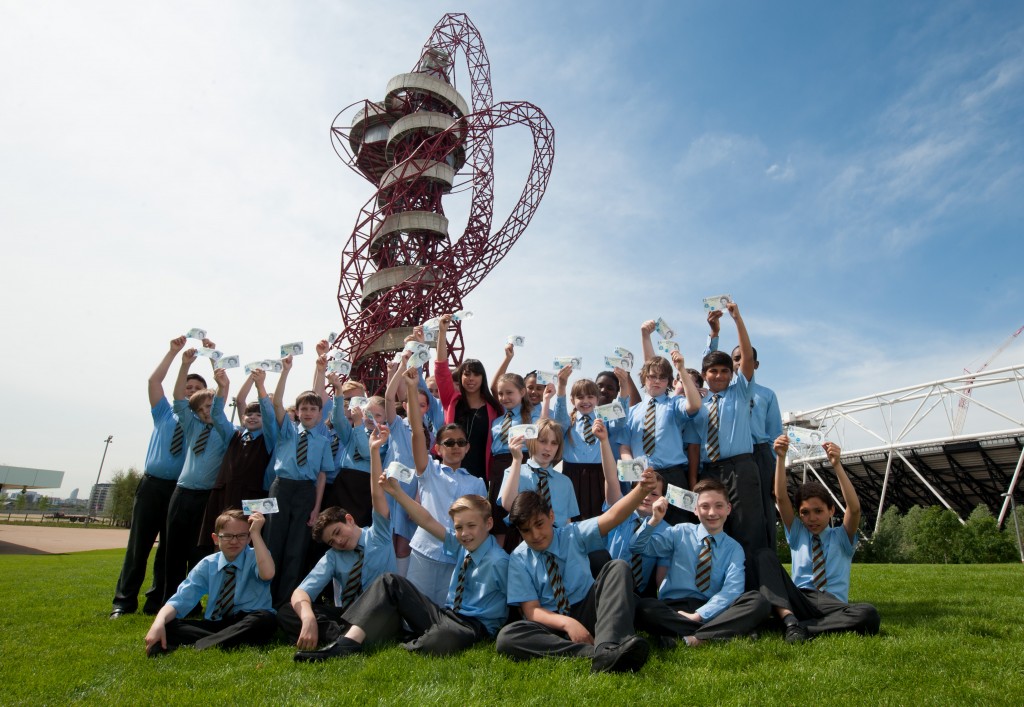 It was for this reason we thought Queen Elizabeth Olympic Park, an area once crammed full of sporting legends and that remains a spot of great memories where world records were broken and dreams met, made the perfect location for the launch. The ArcelorMittal Orbit, in particular, is a beacon of inspiration for young people and a reminder of Britain's success in the London Olympics 2012.
The weather was in our favour and after a quick photo shoot with the pupils from St Mary's Catholic Primary School, a wad of fake five pound notes and the gymnastic legend herself; Beth showed the kids a video of her astonishing achievements, leaving everyone amazed, before we headed up the Orbit for a Q&A session.
With a bird's eye view of the Olympic Stadium in the background, Beth asked the children what they planned to do with their five pound pledges before revealing what she was going to do with hers – promote that five of her iconic leotards (three of them signed) were going to be put up for auction on the Young Enterprise eBay page in order to raise money for her chosen charity, Alder Hey Children's hospital in Liverpool.
There seemed to be a common trend amongst the children with the majority of responses revolving around food businesses, including fruit kebabs and cakes!
We wish all primary school children taking part in the competition throughout the month of June the best of luck and look forward to seeing what wonderful ideas they come up with.