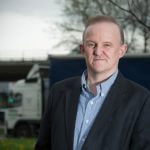 The entrepreneur and business team are thrilled to be working with Ian Baxter, founder and chairman of one of the UK's fastest growing logistics companies, Baxter Freight.
Whilst the business was founded in late 2013, Ian has freight forwarding in his blood, having joined RH Group Ltd in 1995 following an early career in law. As MD, Ian helped build the company to become a £135m turnover business with almost 700 employees in 19 locations before RH was sold to Kuehne & Nagel in 2011.
Having taken some time away from the industry to travel and spend time with family, today Ian is spearheading a different kind of freight company that are flexible, relationship focused with incredible industry pedigree.
Based in Nottingham, Baxter Freight have already experienced incredible growth both in terms of staff numbers and client contracts. We look forward to working with Ian and his team by positioning him as an industry thought leader and as a pioneer for business growth in the UK, whilst sharing the success of the company as Baxter Freight continue to disrupt the freight forwarding market.