Chances are, following the hype that has surrounded the 'F8' conference, you will have heard about the new Facebook profile page to be introduced in early October.
…And based on the mixed reactions to the mild changes already made, it's going to be very controversial.
So, what does this mean for digital PR and brands using Facebook?
There are many new applications that come with the new set up. Here's how to adjust your digital campaign to these features:

Due to the nature of the new profile, digital Facebook campaigns will need to become a lot more personable – and, as you can imagine, this has upsides and downsides.
The upside is it enables brands to tell their story and shape their online personality. This takes the evolution of two-way communication with the customer to a whole new level. By highlighting the key points in a brands history, it personalises it for the customer increasing its trustworthiness.
The downside – depending on how you look at it – is there will be less emphasis on the 'like' button (this is due to other applications being introduced). Meaning digital campaigns will probably become more centred on ensuring their posts are 'top stories' and present in their fans news feeds.
This function has been long awaited and enables brands to create 'actions' – for example, if a recipe is uploaded, customers will have the choice to 'cook it'.  These can be personalised so they are relevant to the content.
Allows people to subscribe to a page, similar to the 'follow' button on Twitter. The new Facebook makes it easier to remove apps, updates or 'unsubscribe' from posts. More emphasis on engaging customers is subsequently vital to the success of a digital campaign.
Facebook has established partnerships with Groupon, Netflix, Spotify, Yahoo! and more. This gives great opportunities to digital campaigns, as they can be more interactive across a vast range of channels.
The ticker will enable advanced targeting, allowing PR professionals to monitor what people like (e.g. music, videos) and shape their promotional content based on this.
This is an image that will be placed at the top of the profile page. Giving brands the opportunity to visually engage their customers more effectively. A captivating image will be key as it is the first thing the customer will see when visiting the page.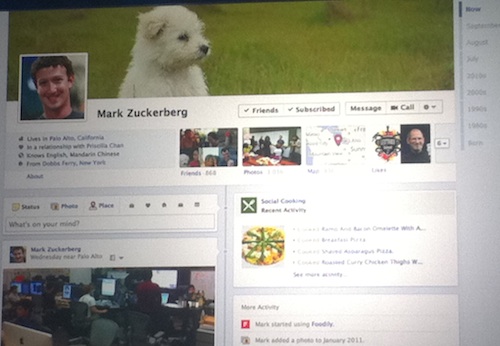 The initial panic of yet more Facebook changes will inevitably die down – it always does – and they will become so ingrained you will forget they even occurred. Does anyone remember Facebook before the invention of the 'like' button? Our memory of those dark days is hazy at best and now Facebook is synonymous with the like button.
Ultimately these changes will be beneficial for both users and companies alike. For digital PR professionals, it does mean adapting the way Facebook campaigns are formed – but this could be an opportunity to engage more customers.
For now, I think they enable more creativity within digital campaigns – and that can only mean good things! However, only time can tell and once it has been tried and tested we will report back.
How are you finding the new Facebook changes? We'd love to hear your thoughts…