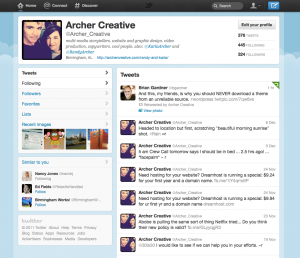 Many tweeps will log on over the next few weeks to find a whole new look to their Twitter world.
Twitter have just announced big changes and there is a fair bit of buzz in techy circles about this overhaul. The official statement from Twitter is that they have observed that individual tweets are steeped in content and as such 'started to take on a life of their own'.
The Twitter powers-that-be have clearly spotted some unrealised potential here. The revamp is an attempt to connect users with the original experience behind a tweet (even if that experience was offline).
Basically, the new look Twitter is focussed on four main hubs. The old features remain but with some snazzy new add-ons and a general restructure:
1. Home – Fundamentally, there are no great changes here. There is still a stream of incoming tweets from the people you follow and the tweet box remains as before. The toolbar has changed slightly to accommodate the other new hubs; Connect, Discover and Me
2. Connect – this tab displays all the activity (mentions, retweets, new followers) connected with your profile. You can filter this to show only certain 'types' of tweets and when you click on a conversational tweet the history of the interaction is revealed.
3. Discover – this is in my opinion, the biggest and most commercially savvy change. It really taps into what many people use Twitter for – as an information resource. Discover helps users maximise their Twitter reach and the value of their experience on the site. Your Discover tab highlights interesting Twitter stories or trending topics as well as suggesting new profiles to follow. Ultimately Twitter have strengthened their USP and accommodated those who use Twitter as a sort of tailored news feed. Consider that this year Twitter revealed that 40% of their active users log on to read rather than tweet. These users (and the rest who tweet and read) can now categorise Twitter profiles to find the tweets that interest them most.
4. Me – This section contains your profile, stats, drafts, lists and any searches you save, as well as your settings.
The changes are a clear step to encourage existing users to grow their profiles in size and interactivity. They also add a new dimension to the platform that could be attractive to new users and more users are good for everyone – not least Twitter.