In the digital age we live in, when we are not happy with the service a company has provided us, more often than not we turn to Facebook and Twitter to seek immediate support.  But what happens when the right information isn't readily available to us?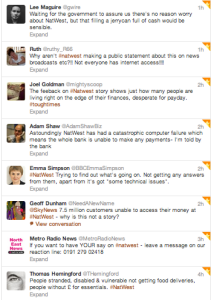 A new report from Birdsong:  Social Media Reconnaissance reveals a number of failings by Natwest in actively supporting its customers via Twitter during the IT collapse in late June.  Despite the surge in followers and influx of mentions of @natwest_help, extended branch hours and weekend openings, the bank's Twitter account did not actively extend its social media presence or increase replies until very late on in the crisis, choosing a 'business as usual approach'.
The new report from Bird Song: Social Media Reconnaissance showed numerous elements which shows that Natwest failed to increase its Twitter support to match the measures taken by branch staff and call centres.
As the problems unfolded, the followers of @Natwest_Help escalated at a rapid rate, growing by over 200% during the crisis, taking the bank from one of the least followed to one of the most followed UK bank accounts.  During this time the number of mention @natwest_help grew 8 times more than its original amount.
The report also reveals the slow reaction time from the bank.  Despite the influx in followers and mentions, the bank maintained standard tweeting hours of 9-5 at a time when branches were being opened later.  It took a week for the bank to start maintaining a later presence on Twitter, until 7p.m.
In addition to this, for the weekend that the bank opened, the Twitter account was left to broadcast automated messages, offering no active support, only a link to direct followers to online help.  The tweet alone generated 800 links (Bit.ly) of people seeking support.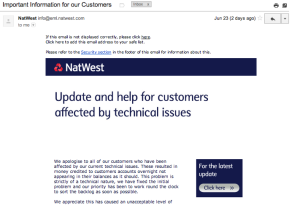 This has also been the case for both Virgin Atlantic and British Airways in December 2010 and was the case for O2 last week.  Since the start of the national coverage disruption, the @O2 account has grown by 50%.
National crises such as the Natwest fiasco, demonstrate just how dependent we are on the web and computer networks, and the ability to adapt to the consequences of a major systems breakdown.  Therefore it is imperative that companies such as Natwest act immediately, enforcing a social media strategy that would see to support those who have been affected.  Putting social media on the back burner could have a detrimental effect on the reputation of the brand, resulting in a leap of unwanted negative comments, which ultimately could lead to customers taking their business elsewhere.
Cover image courtesy of lamoix, flickr.com