By Robyn Sharpe
When England beat Sweden booking their place in the semi-finals of the 2018 World Cup, nearly 20 million people tuned in to watch in the UK. This proved football's premier events are a great opportunity for brands to get noticed during commercials, airing and updates. During the World Cup, brands were creative with their campaigns, we take a look at some of our favourite PR stunts throughout the tournament.
Beer and caviar might not be the first food combination you think of when hosting guests to watch the football. But sponsors of the Danish national team Carlsberg, celebrated the World Cup by creating the world's first 'Beer caviar' to give Danish fans a small taste of Russia. Using a scientific process called molecular gastronomy, the beer brand created Carlsberg Caviar which brought together the texture of fish eggs whilst having the flavour of a cold pilsner.
Dominos wanted to remind its audience that they believe the tournament should be enjoyed from the comfort of your sofa. To help reinforce this message, the established pizza brand took an unusual approach to position themselves as the 'official food of not going to international football tournaments' by reflecting on the failure of ex-football pro Jimmy Bullard who never played at a World Cup. The series of adverts featured Jimmy undergoing mundane tasks around the house during the World Cup, including a trip round 'Jimmy's trophy room' where it featured an England shirt which still had the price tag on it and two England 'caps'.
The airline company seized the opportunity to get behind England by releasing several innovative social media campaigns and PR stunts. One of the stunts BA executed included releasing a unique plane ticket where the ticket belonged to a passenger called 'Football' who was flying from Moscow to 'Home', playing on the reemergence of the football anthem 'Three Lions'. Other notable amendments to the unique ticket included 'Gate: South' referring to the England manager Gareth Southgate and the seat number was '52H' indicating towards how many years it has been since England last won the World Cup.
But British Airways weren't finished there, the day before the semi-final against Croatia they decided to handout 300 M&S waistcoats to passengers who were flying to Moscow from London. M&S are the official supplier of the England formal wear and supply the food on BA's short haul flights.
It's coming home… pic.twitter.com/Qxg8g0HvLe

— British Airways (@British_Airways) July 7, 2018
There was a lot of controversy around Paddy Power's World Cup campaign. The Irish bookmakers leaved a 'live' video of a Russian polar bear being graffitied with the English flag and the Paddy Power branding. They took credit for the video in a full-on newspaper wrap on the Metro. There was a storm of complaints on social media following the stunt, until two days later when Paddy Power took over the Metro again to reveal that it was intended to raise awareness of the plight of the polar bear in Russia. Paddy Power had in fact teamed up with Polar Bears International to fund their first Russian Polar bear research programme.
Everyone is talking about the World Cup, but nobody is talking about endangered polar bears in the Russian Arctic. With the blessing of @PolarBears we pretended to spray-paint one to help raise awareness… #PaddyPolar pic.twitter.com/Xt35L8BcWb

— Paddy Power (@paddypower) June 7, 2018
National Centre for Domestic Violence
NCDV used the World Cup hype to highlight the horrifying link between domestic violence and football with their 'Not-So-Beautiful Game' campaign. As you can see from the picture below they recreated the England flag with images of blood from injuries and released them on the days England had matches. The posters provide statistics from researchers at Lancaster University who found that reported incidences of domestic violence increased by 26% when England play, 38% if England lose and 11% the next day win or lose. NCDV hopes this campaign will make more people realise domestic violence is not socially acceptable.
Does your brand or business need creative campaign support or perhaps a public relations strategy put in place? Speak to a member of our team today to find out how we can work in partnership with you.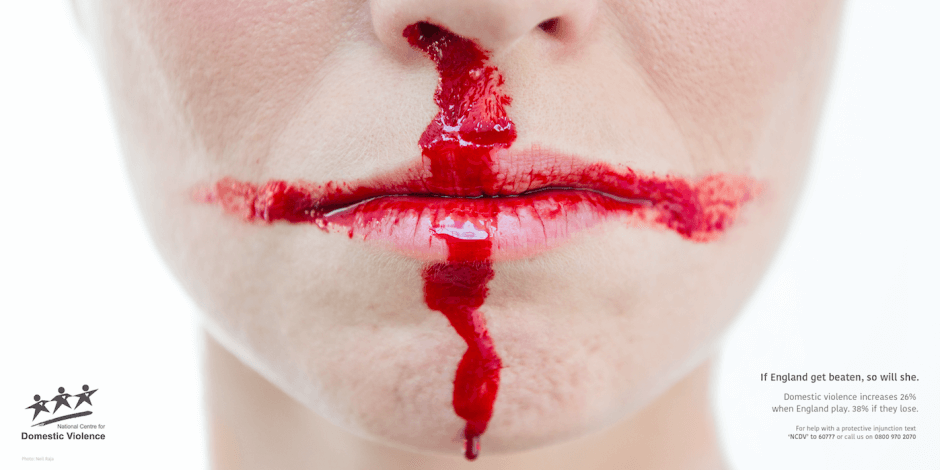 Does your brand or business need creative campaign support or perhaps a public relations strategy put in place? Speak to a member of our team today to find out how we can work in partnership with you.